Frequently Asked Dental Questions – Fresno, CA
Getting You the
Answers You Need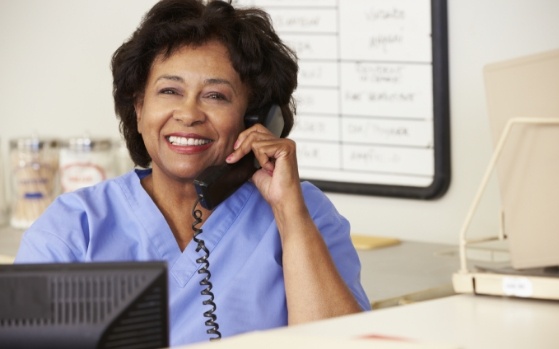 Making a confident decision in your oral healthcare requires you to be informed, which is why our team never shies away from taking time to answer each of our patient's questions. Below, we've compiled a list of the most common ones we receive. If you still don't see the answers you're looking for, please don't hesitate to reach out to us directly.
What is gum disease?
Gum disease is a common oral health condition that involves the infection of the soft tissues in your mouth, like your gums. This is typically caused by a build-up of plaque and tartar due to poor at-home and routine oral hygiene. When left untreated, gum disease can result in worsening symptoms and even tooth loss, which is why we recommend visiting us as soon as you experience any warning signs of this disease, like gum recession.
When should I start taking my child to the dentist?
The American Academy of Pediatric Dentistry recommends bringing your child into the dental office by their first birthday or within six months of their first tooth erupting through their gums.
Can I straighten my teeth without anybody being able to tell?
Yes! Thanks to modern orthodontic advancements, you can now straighten crooked, crowded, and misaligned teeth with a less noticeable appliance than metal brackets and wires. Our team utilizes SureSmile and ClearCorrect clear aligners to gradually shift your teeth into their ideal position without drawing attention to your mouth, allowing you to maintain your unique sense of expression and professional appearance throughout treatment.
How do I know if I need TMJ treatment?
TMJ disorder (TMJD) is a condition that's estimated to impact millions of people. Some of the most common signs that point towards you needing an evaluation for TMJD include:
Your jaw locks in place when you open it
You experience aching around ear
You have pain or tenderness in and around your jaw
You have difficulty chewing food
Your jaw clicks and pops when you open and close it
At W Dental, we offer several custom-tailored TMJ treatments to help provide you with relief and prevent worsening symptoms.
I'm scared of the dentist. Can you help?
Countless patients experience fear or anxiety surrounding visiting their dentist due to bad past experiences, overstimulation, and other reasons. To help make your experience more relaxing and less stressful, we offer multiple forms of dental sedation. Just ask about this service when you call to schedule your appointment!
What should I do if I need to reach your office after a procedure?
Our practice is proud to offer a texting service where you can reach us throughout the day, so if you want to find out whether a symptom you're experiencing is typical, you can just shoot us a text!